It's 2021 and there was probably not a better moment in history to be a recording artist, that's why I've decided to create this Home Recording Studio Setup Guide.
In the past, you had to spend A LOT of money if you wanted to get into a decent studio and record a bunch of songs, but today you can simply do it from your bedroom with a really small budget. And the best part is that you can sound as good as in any professional studio. Great, right?
If you ended up here, you probably know this is possible but you're not sure where to start from. Don't worry, I've been on that exact same place when I started my journey on home music recording, and over the past years I've learned a lot on the topic. Not to mention I'm also kind of a compulsive buyer when it comes to studio stuff, so I probably owned every piece of gear in the market 😅
OK, enough talk. Let's dive into my Home Recording Studio Setup Guide 2021.
Any home recording studio setup will need the following:
Computer
DAW
Audio Interface
Studio Headphones
Studio Monitors
Microphone
MIDI Controller
For each item, there's hundreds of options in very diverse price ranges, but I'll focus on recommending you the items that have the best mix of affordability and quality.
Computer
Ten years ago, you required "special" computers to record music, but nowadays almost every average laptop can function as a decent home recording studio computer. Of course, the more complex your recordings becomes (based on number of tracks you create, number of plugins you use, etc.), the more horsepower you'll need.
Mac or PC?
This has been always a big discussion topic and there's literally millions of articles and opinions on the web. But here's the truth: it doesn't matter.
At some point, Apple computers gained a lot of popularity among musicians and producers, especially because they were better at handling high resource tasks. But nowadays, Windows caught up, so your decision should be only based on which system you feel more comfortable working with.
That being said, there's 3 things you should pay special attention when you buy a computer for music recording.
Processor
This is the heart and the brain of your computer. It will handle all tasks, so you need to pay special attention to it. For music production, you'll need at least an Intel i5 processor.
Storage
Although you might think that capacity is the most important element here, it is not. You must pay attention to the type of drive more than the capacity, as this will make a significant change in performance. To handle music production tasks, I highly recommend going for a solid-state drive (SSD), as those are much faster than the classic hard disk drives (HDD).
In terms of capacity, anything above 256GB is acceptable, as you can (and should) always work with an external hard drive.
RAM
RAM is a form of temporary computer storage that allows stored data to be received and read almost instantaneously. This is something you'll do very often while producing music, so it's crucial to get at least 8GB of RAM.
Computer Recommendations
Apple Macbook Pro 2020 M1 13″
The best high-end option for home recording (plus comes with Garageband for free)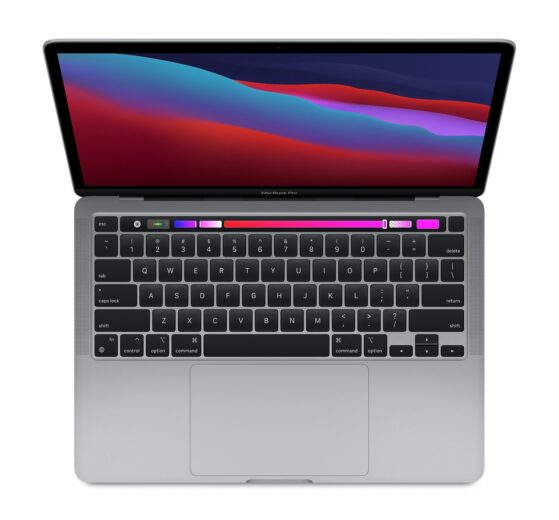 Price: $1299
Buy Macbook Pro M1 13″ on Amazon.
Acer Aspire 5 A515
Best budget laptop for music production.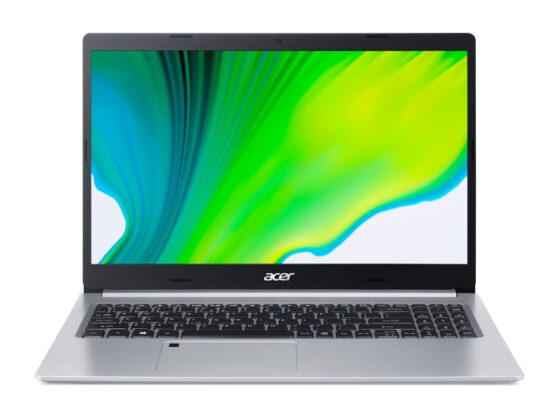 Price: $549
Buy Acer Aspire 5 A515 on Amazon.
---
DAW
DAW stands for Digital Audio Workstation and it's basically the software you use to record, edit and mix music digitally on a computer.
There are dozens of options but all of them do more or less the same things, so the final decision should be based on which one you feel more comfortable with. My recommendation will be that you get a free demo of each and test them to see which one accommodates better to you.
DAW Recommendations
Garageband
Included for free on every Apple computer. It's intuitive, good-looking and very easy to get started with. It was the first DAW I ever used and recorded two entire albums with it.
Price: $0 (included for free on every Mac)
More info on Apple's Garageband official site.
Ableton Live
One of the best options out there, it's great for brainstorming and also for live performance, thanks to its well-known session view. But you can do anything with it. It's the DAW I mostly use nowadays and that's why I decided to include it in the Home Recording Studio Setup Guide 2021.
Price: $100 Intro version, $430 Standard version and $735 for Suite Version. You can check an in-depth comparison of all versions here.
IMPORTANT TIP! 👀 Almost all MIDI controllers come with a free version of Ableton Live Lite, which is a kind of a stripped version of the Intro mentioned above, but still a good starting point. More details on Ableton Live Lite here.
---
Audio Interface
To record any sound into your DAW you'll need a sound interface. Please avoid recording by plugging your instruments straight into your computer (been there 😳). As with everything, there's dozens of good alternatives and after trying a lot of them I came to the conclusion that these are the best options.
Audio Interface Recommendations
Universal Audio Twin X Duo
Best high-end audio interface for professional studio recording quality at home.
I'll be short and crisp: it doesn't get any better than this. Getting a Universal Audio interface means you'll be achieving studio quality sound in your bedroom.
Some of the most important features this interface has are:
Elite-class conversion with the widest dynamic range and lowest noise of any desktop interface.
2 inputs with Unison Preamps, which basically means you can make your audio interface sound exactly like 10.000 USD preamps thanks to the Unison technology and the plugins included with the interface.
UA Plugins: this company is not only well known for their interfaces and hardware but also for crafting the best plugins in the market. The top engineers and producers in the world use these plugins in all their stuff. Many big names in the industry claimed that they can't spot the difference between UA emulations and the super super expensive hardware. Every UA interface comes with an included bundle of free plugins that are enough to get started.
Onboard UAD processing lets you track and mix in realtime with included plugins. This means all the plugin processing happens within the interface instead of your CPU, which helps you to avoid overcharging to computer processes when adding too much plugins and tracks to your project.
Front-panel Unison-enabled Hi-Z instrument input and headphone out, which comes in very handy.
Price: $899
More info on Universal Audio product page.
Focusrite 2i2
Best audio interface you can get for a very reasonable price. Sound quality is outstanding.
I've been using this great interface for many years (until I saved enough money to buy the Apollo). I've recorded 3 albums with this baby and always worked like a charm. Focusrite is very well-known in the industry for its high-class hardware, and this is not an exception. Don't get fooled by the price, this is a professional, great-sounding interface and you won't get anything better for this price (or even for more).
Some of the most important features that made my include the Focusrite Scarlett on my Home Recording Studio Setup Guide 2021:
High-performance converters, allowing you to record, mix, and playback audio in studio quality, anywhere.
2 inputs with professional-sounding preamps to plugin instruments and/or microphones.
Compatible to use with iPad Pro through USB-C cable.
Comes with a great bundle of software and plugins, including Ableton Live Lite, Softube plugins, a 3-month subscription to Splice sample library, and tons of other cool effects and sounds.
Price: $160
More info on Focusrite product page.
---
Studio Headphones
This is an essential tool in every home studio, as they're key for tracking/recording and also for certain parts of the mixing process. Despite it's always recommended to use studio monitors to mix your music, there's plenty of producers and engineers that rely solely on headphones for this.
There are two types of studio headphones: closed-back (ideal for recording, as sounds is sealed and it's not getting into your recording) and open-back (not sealed, which means you can use them for longer without having ear-fatigue. Ideal for mixing).
Headphones Recommendations
Beyerdynamic DT770 PRO
Everyone who tried these headphones instantly fell in love with them. This German brand has been manufacturing top-level headphones for almost 100 years and they became a standard on every studio worldwide. The DT770 is the perfect combination of price, quality, and comfort.
Price: 179 USD
More info on the Beyerdynamic product page.
Sony MDR-7506
A cheaper alternative to the Beyerdynamics but almost as good as them. Trusted by many studio experts around the world thanks to its detailed and balanced response.
Price: 95 USD
Need more arguments? These headphones have over 12.000 reviews on Amazon and almost perfect score. Check the reviews and other details here.
---
Studio Monitors
There are two important things you'll need to consider when buying a pair of studio monitors. The first one, and most important: Do you have any kind acoustic treatment in your studio? The second one: How much money do you have? A pair of studio monitors can range anywhere between $150 to $10.000.
If you're reading this guide, I assume you're not a professional studio person, so I will assume your room is untreated or partially treated, like mine, so I'll recommend you what worked best for me.
Studio Monitors Recommendations
IK Multimedia iLoud MTM
After testing A LOT of studio monitors during the past years, I can say these are my favorite ones by far (and the ones I have in my studio right now). As said before, I'm only including gear I've tried and can swear by on this Home Recording Studio Setup Guide 2021. There's a lot of great things about these monitors, but here's the main featured that made me fall in love with them:
They're quite small and lightweight, specially if you compare them with any other monitors on this range.
They auto calibrate! This is definitely one of the main advantages over any other speakers, specially if your room is untreated. These monitors come with a special microphone you need to plug into the back of each speaker, then press a button and they will make a "whooop" sound and that's it. In less than 10 seconds your speakers are calibrated based on the acoustic response of your studio. It's like magic, and it works!
They have a really wide frequency response (40 Hz to 24 kHz) beating any other contender on this price range (and also above). Mixes translate really well, even if you're working with a lot of bass or sub bass.
They look nice! It should not be important, but it is 😛
Price is quite affordable.
Price: 700 USD the pair
More info on the IK Multimedia product page.
Yamaha HS5M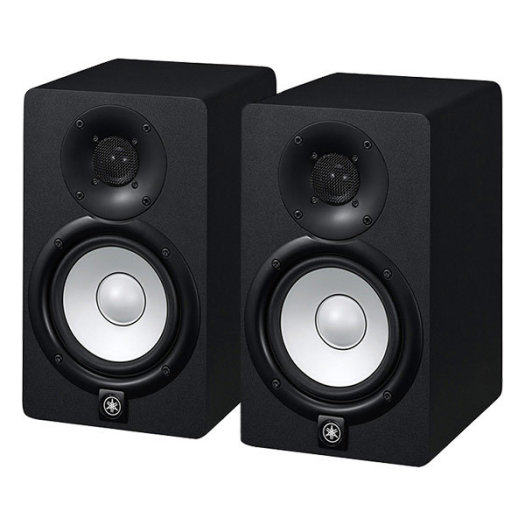 These have been pretty much the standard for every home (and not so home) studio in the world. And that's for a reason: if a mix sounds good on these, then it sounds good everywhere.
If you look for pictures of the most important recording studios in the world, a lot of them have a pair of Yamaha's in the control room, right next to their super expensive monitors. This is because top mixing engineers like these monitors to reference check their mixes and make sure they sound balanced and translate well.
That's enough good reason to have a pair of these at home, right? 😉
Price: 500 USD the pair
More info on the official Yamaha product page.
---
Microphone
Even if you're not a singer or rapper, you might still need a microphone in your studio. Why? Well, you can always become a singer or rapper. But also you might need to use a microphone to record instruments, percussions, create your own samples, or even record a podcast.
There's mostly two types of microphones: Dynamic Microphones and Condenser Microphones.
DYNAMIC MICROPHONES
Better for capturing loud sounds (especially live).
Don't need a power supply.
Very durable and sturdy.
Cheap (the most famous Dynamic Microphone is the Shure SM58, which costs around 100 USD).
CONDENSER MICROPHONES
Better for capturing delicate sounds and high frequencies (especially in the studio).
Needs power supply (phantom power).
More sensitive.
More expensive.
So, summing up: usually Dynamic microphones are used for live setups or recording loud instruments in the studio (e.g. guitar amplifier or drums) and Condenser microphones are used in the studio, mostly to record vocals and acoustic instruments.
That being said, there's no rules, and you can use each type of microphone for whatever you want and still get good results.
Microphone Recommendations
Shure SM7B
This is a Dynamic microphone and, although I've just said Dynamic microphones are better for live setups, the SM7B is a standard for recording vocals in the studio. It became very popular after Michael Jackson used it to record his vocals on the album Thriller. It has a rich and balanced sound and it's ideal for home recording setups as it has a cardioid pattern, which means it just records what's right in front the mic (ideal if you have an untreated room and want to avoid reflections and noises getting into the recording).
Price: 399 USD.
More info on the Shure SM7B product page.
Aston Origin
This UK brand is relatively new (was founded in 2015) but quickly became one of the most hyped names within the recording industry thanks to their cheap and incredibly good sounding microphones. The Origin is a perfect example of this. It's a cheap Condenser Mic that sounds like a very expensive one. It's suitable for almost anything, it's super sturdy and it looks beautiful. That's why it's a great contender to the Shure and made its way into my Home Recording Studio Setup Guide 2021.
IMPORTANT: Keep in mind that if you go for a Condenser Microphone you'll need to provide it with Phantom Power. All sound interfaces and mixers have Phantom Power (sometimes referred as +48V), so there's not much to worry about. You'll just need to push a button on your interface/mixer and it's ready to use.
---
MIDI Controller
This is another key element in your studio. A MIDI controller will allow you to play virtual instruments such as synths, drums, keyboards, pianos, orchestral instruments, etc. You will find a wide variety of MIDI controllers in the market and it's generally a cheap item, as it doesn't play any sounds by itself but rather sends MIDI signals to the computer to play the virtual instruments.
First thing you need to decide before purchasing a MIDI controller is how many keys do you need. This will usually come determined by the space you have in your desk and/or how much you can do with more keys. In my case, I'm not a great piano player and I don't have a lot of space in my studio, so I went for a 24 keys MIDI controller and I'm more than happy with it. You will find controllers with up to 88 keys.
MIDI Controller Recommendations
Arturia MiniLab MKII
This is the one I own and, as I mentioned above, I couldn't be happier. It has everything I need.
This is how Arturia describes the product: "Compact, feature-packed, fun. More than just a portable keyboard, MiniLab MkII offers plug and play integration, inspiring sounds, and tactile control – your entire session in a box. The perfect introduction to sound exploration."
Arturia MiniLab MKII Main Features:
Main Features
25 note velocity-sensitive slim keyboard
2 banks of 8 high-quality velocity & pressure-sensitive pads with RGB backlighting
16 rotary encoders (2 of them are clickable)
2 capacitive touch sensors for pitch bend and modulation wheel
8 user presets
Sustain pedal jack
Octave up and octave down buttons for full range
USB powered
USB/MIDI class-compliant no drivers needed.
Compatible with Mac or PC
Kensington Security Slot
Includes: Ableton Live Lite, UVI Model D Piano and Analog Lab Lite (which has all Arturia's 26 iconic keyboard recreations with 500 presets to use). This last one already justifies the investment. 😉
Price: 119 USD.
More info on the official Arturia Product Page
Akai MPK Mini MK3
This is another great option by one of the top music hardware brands in the world.
This is how Akai describes the product: "Your entry-point into a world of pro production starts here. Introducing the MPK Mini MK3, the third iteration of the world's legendary best-selling mini keyboard controller that redefined how a generation of creators makes music."
And the Akai MPK Mini MK3 main features:
25 Mini Keys Featuring New Keybed Technology
Brilliant OLED Display for Immediate Parameter Feedback
8 MPC Performance Pads w/ Note Repeat and Full Level in two banks (16 total)
8 Endless Knobs to tweak your software parameters
4-way Joystick for Pitch & Modulation Control
Class-Compliant USB Connectivity
Built-in Arpeggiator
Sustain Pedal Input Jack
Superior, Sturdy Design & Build
Includes: MPC Beats software and a series of sample packs.
Price: 119 USD.
More info on the official AKAI product page.
Why do I prefer the Arturia MiniLab MKII over the Akai MPK Mini MK3?
I tried both before deciding to buy the Arturia and for me, the MiniLab just felt nicer to play. Also, the inclusion of Analog Lab Lite is a huge deal, especially if you're just starting to get into the world of digital synths and keyboards.
On top of that, in the past I've owned an Akai MPK Mini MK1 (their first iteration of the product) and two of the keys started to malfunction after one year. I guess they improved the quality of the product over the years, but still it was not a great product experience for me.
Last but not least, Arturia's white finish with the wooden sides looks much nicer. 😌
---
Home Recording Studio Setup Guide 2021: You made it to the end! 🎉
And this is it! You've reached to the end of my Home Recording Studio Setup Guide 2021.
Do you still have doubts? Not sure about a piece of gear? Need any recommendations? Don't hesitate to reach out to me, and I'll be happy to help you out.